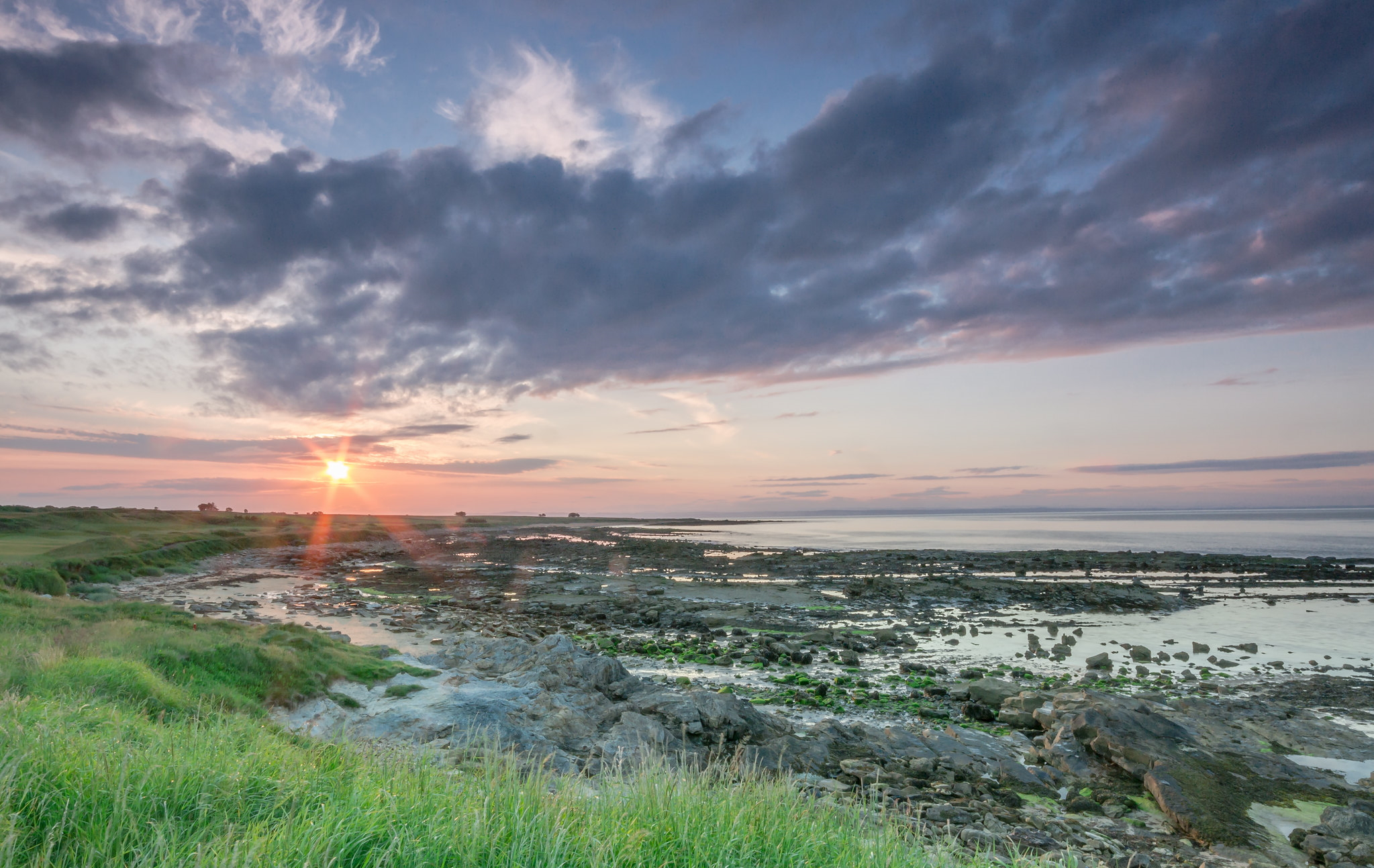 Features
Ensemble Features
All your scores in one place
Utilise the cloud to make your scores available on any device at any time. Organise them into folders with search capability.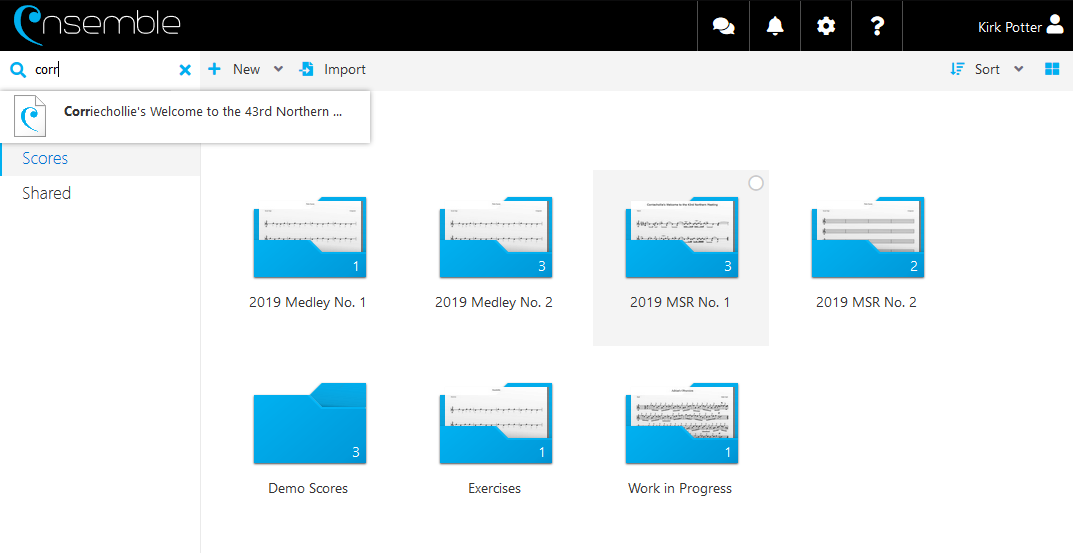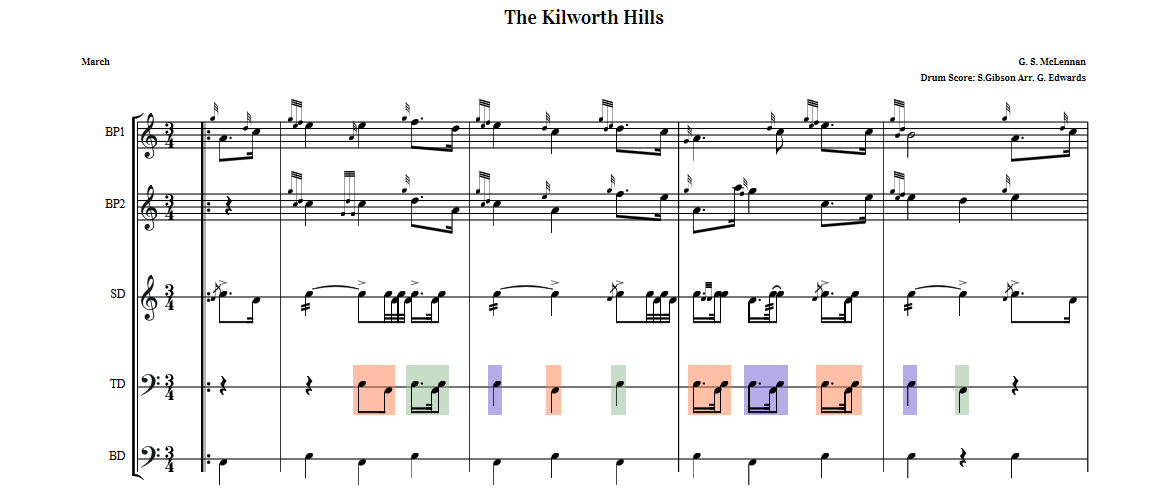 Full orchestration
Build scores for bagpipes, snare drum, tenor drums and bass either individually or as a single score. Split and merge scores as required.
Realistic playback
Some of the best playback in the business - real bagpipes, synthetic bagpipes, smallpipes, practice chanter, practice drum pads, snare drum, pitched tenor drums and bass drum. Crescendo/Diminuendo and accents are all catered for.

Fully featured editor
An editor with everything you need; cut, copy, paste, add and remove staves, add bar lines, remove bar lines, etc.
Productivity
Automatically beam and space your notes, use shortcut keys to speed entry of notes and embellishments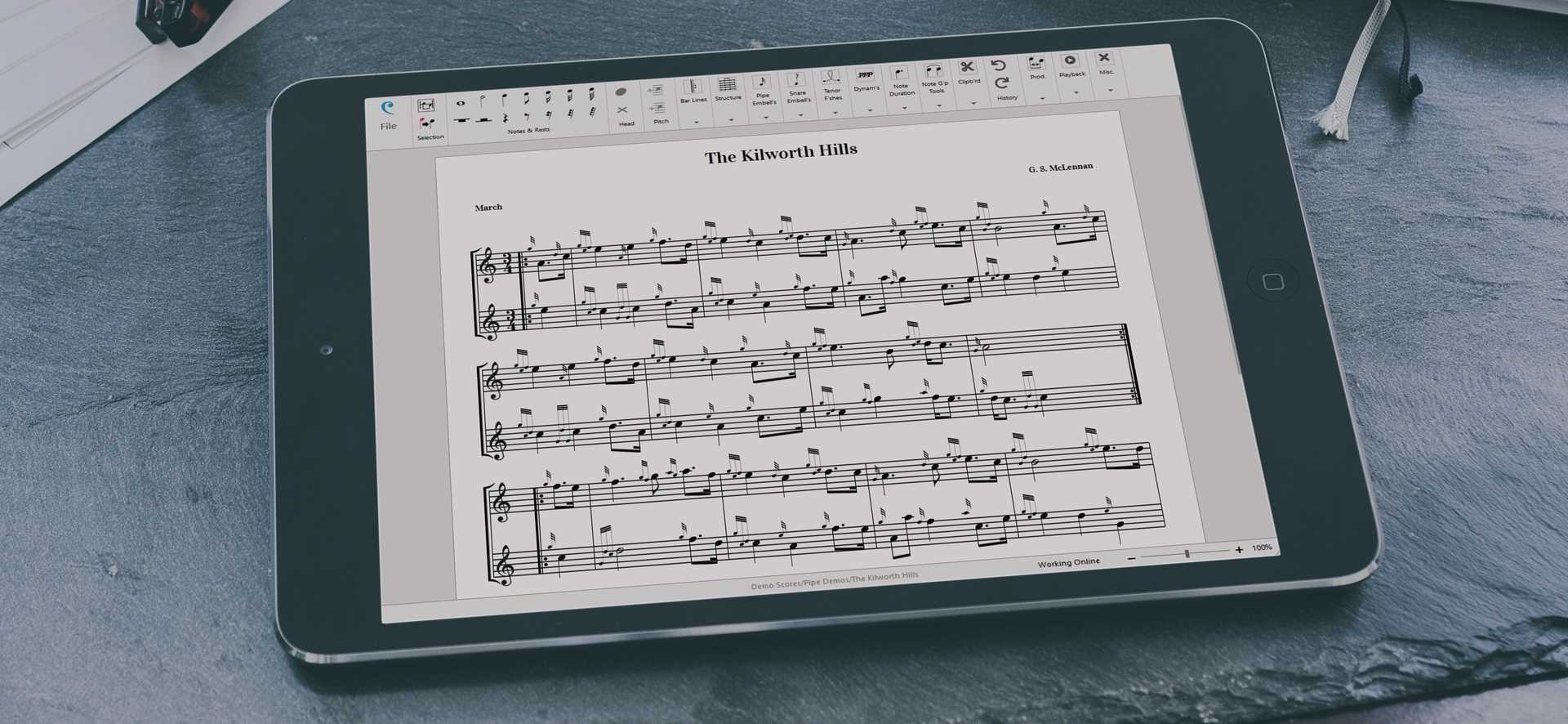 Web browser access from any modern device
Access your scores from any device that supports a mainstream web browser, this includes smartphones, tablets, as well as desktop computers
YouTube Synchronisation
Synchronise your scores with YouTube videos to take your teaching and sharing of scores to a whole new level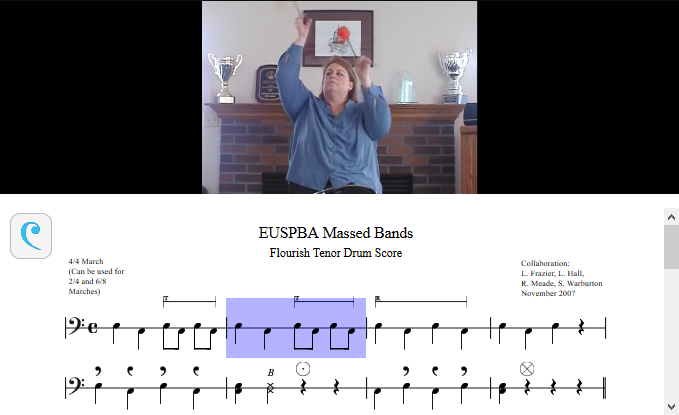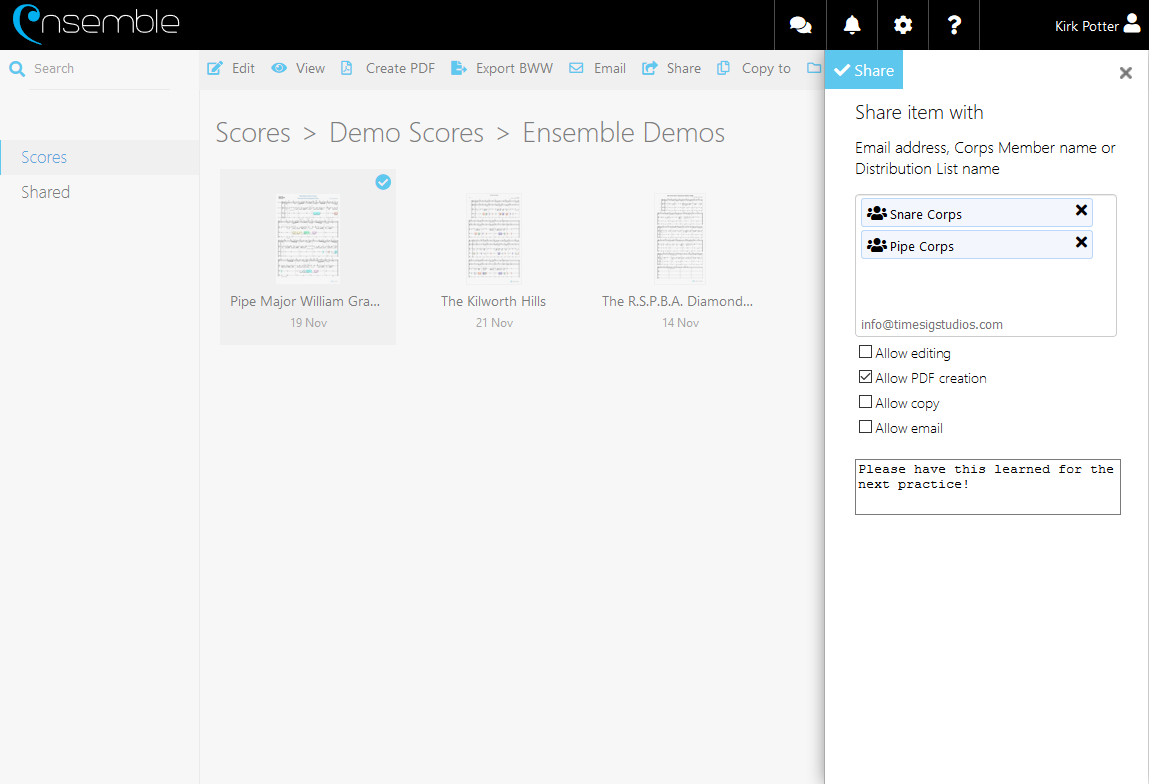 Collaboration
Share your scores with your friends, band colleagues and students. Pro Edition allows scores to be shared with pre-defined distribution lists of people, Corps Edition allows corps members to be invited to Ensemble and they can access scores directly including playback and download of PDF.
High quality engraving
Create high quality PDFs of your scores including set lists to produce a single PDF of multiple scores
Full list of features
Compatibility Fully compatible with Chrome, Safari, Firefox and Edge web browsers
Touchscreen device compatible

Editor
Notes and rests from whole note to 1/64th note
Drag single or multple notes on stave
Cross note heads
Pitch up/down tool
Bar lines (single, double, start, end, start repeat, end repeat)
Add/Edit staves
Multiple time signatures in one score
Multiple tempos (metronome marks) in one score
Vast array of pipe embellishments supported
All snare embellishments supported
EUSPBA tenor flourishing symbols
Other tenor flourishing symbols
Custom flourishing symbols
Dynamics (ppp, pp, fff, ff, mf, etc.)
Dot/Double dot
1st/2nd Timings (including 2 of 2, 2 of 2 & 3, etc.)
Configurable highlight colours
Unison marks (ff, f, u, etc.)
Cut/Copy/Paste
Undo/Redo
Crescendo/Diminuendo (drumming)
Automatic beam tool
Automatic spacing tool
Dot/Cut and Cut/Dot tool
Swap hands tool (drumming)
Optimise bar/measure widths
Add text including configuration of font, size, position, etc.
Add images/logos including animated GIFs
Phrase Library
Common and custom time signatures
Option to hide time signatures
Stave/System identation
Dozens of shortcut keys
Optional dark theme for editor

Score appearance
Show/hide part titles
Show/hide key signature (bagpipes)
Show/hide bar numbers
Show/hide beat numbers
Show/hide foot tap marks
Show/hide note names (bagpipes)
Show/hide embellishment note names (bagpipes)
Show/hide embellishment names (bagpipes)
Option to draw beams under rests
Configurable background colour
Configurable note colours (bagpipes)
Configurable embellishment colours (bagpipes)
Full height or compact bar lines
Configurable tuplet style
Automatic syllable labelling

Playback
Real bagpipes, synthentic bagpipes, smallpipes, practice chanter, practice pad, snare drum, tenor drums, bass drum sample sets
Playback tempo control
Assign tenor pitches to highlight colours
Control over volume levels of individual instruments
Enable full band-style introduction
Syllable playback
Tenor/bass rolls
Download audio file
Configurable metronome

PDF
Configurable footer text
Portrait/Landscape orientation
Page numbering
Vertical scaling (fit more lines onto a page)
Create PDF of multiple scores

Miscellaneous
Edit Mode/View Mode
Export to BWW
Organise scores into folders
Copy multiple scores from folder to folder
Move multiple scores from folder to folder
Sync with YouTube video
Facebook registration/login
Create "Set Lists" of scores
Score Library of over 100 free bagpipe scores

Collaboration
Create distribution lists [Pro & Corps Editions]
Email score(s) [Pro & Corps Editions]
Share score(s) [Pro & Corps Editions]
Give corps members access to Ensemble [Corps Edition]
Corps Member engagement statistics [Corps Edition]
Shared Workspaces [Pro & Corps Edition]